Datum: 13.09.2020 · Sonstige
7th rank on homesoil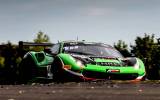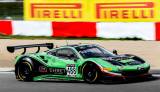 The home race of Rinaldi Racing and sports car driver Pierre Ehret, the 6h at the Nürburgring, ended for the team with a 7th place in class. Pierre and his two team mates Rino Mastronardi and Daniel Keilwitz crossed the finish line at the 2nd round of the GT World Challenge Europe Endurance Cup powered by Amazon Web Service as 27.th overall in the 47 car field. Despite a flawless race, the team was not so happy with the result after this run.
"Actually, the race went perfectly. This time we didn't get any unnecessary penalties, the team made clean pit stops and we did all flawless double stints. The times were ok for all 3 of us. I drove the start and suggested to do a double stint with the tyres. That was a bit risky for me, but the tactic worked: I started seventh and was able to hold this position until I handed over to Rino. Why we still finished on a disappointing 7th place is a mystery to us. We must have lost a lap to the competition somewhere in one of the safety cars".
The race, which was won overall by the Dinamic Porsche trio Christian Engelhart, Sven Müller and Matteo Cairoli after 173 laps, was won in the Pro Am class by the Orange 1 by FFFRacing Lamborghini of Erhard/Keen/Hamagushi with 172 laps, ahead of the #991 Porsche crew from Herberth Motorsport and the #87 Akka ASP-AMG. The gap to the class winners was almost exactly one lap for the Rinaldi trio.
"Both Rino and Daniel have shown strong performances during their stints. Daniel was even able to keep up with the leading group of the overall leaders in his stint and had chances to unlap himself, but made the choice not to do so to avoid unnessaccary risks. So it can't have been the driving performance of the pilots. The lap that we missed in the end must have got lost at the pitstops somehow. We have to make strategic analysis before the 24h in Spa to avoid such setbacks during the race in the future."
The next race for Pierre Ehret is a meeting of Peter Auto in Monza in 2 weeks, where he will drive one of his older Ferrari and a Porsche 962.