Datum: 06.10.2019 · Sonstige
4th at the 3 hours of Barcelona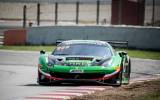 Pierre Ehret and his Rinaldi-Racing team have narrowly missed the podium at the last round of the Blancpain GT Series Endurance Cup 2019 in Barcelona. With a fourth place in the AM-class (27th place overall out of 46 starting teams) the trio Pierre Ehret (D), Martin Berry (AUS) and Rory Penttinen (FIN) were only 22s short of securing 3rd inclass at the end. However, the race left an ambivalent impression on Ehret.
"The race was a catastrophic performance of the BES field. Almost half of the heat was done under yellow. I've never seen such aggressive behaviour from many participants that led to many avoidable incidents. Poor driving standards like these will lead to driving amateurs out of the series as you always have to reckon with being swept out of the way." This season Ehret's team was also a victim of similar circumstances when the German had to end the race prematurely in the starting lap of the Silverstone race after a collision.
The race on the Circuit de Catalunya was interrupted by 6 full course yellow / Safetycar-periods and was held almost half under yellow. A long SC-phase after the rollover of a Porsche right on the first lap led to Pierre Ehret´s stint being run by 2/3 under yellow. Martin Berry's stint was interrupted by 2 spins, with the second no fault of his own after an Audi hit him. Rory Penttinen set convincing times again in the final stint, but 2 additional yellow phases towards the end of the race prevented him from closing the distance to the third placed team, the #33 Ferrari, also operated by the Rinaldi team.
"Rorys laptimes were again outstanding. Without the yellows he would have been able to conquer P3 from our teammates. But time simply ran out behind the safety-cars."
After the final race of the season Pierre Ehret and Martin Berry finished as 7th in the AM category of the Blancpain GT Series Endurance Cup 2019 with 57 points . Ehret is now considering several options for the coming season. "Maybe I'll have another season in the Blancpain GT Series. On the other hand, Le Mans would be a tempting goal. We'll weigh up what we can do over the winter and then decide what to do next season."