Datum: 05.06.2019 · Sonstige
15.th Blancpain Endurance podiumresult in Le Castellet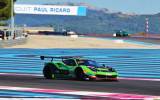 Sportscarpilot Pierre Ehret has finally clinched the first podium result of the season at the third race of the Blancpain Endurance Series 2019. After bad luck at the previous heats at Monza and Silverstone, the Rinaldi Racing Ferrari of Ehret, Martin Berry and Jose Manuel Balbiani crossed the finish line after 171 laps as third in the Am class and 31st overall. Thus Ehret managed the 15th class podium in his 27th race in the series.
Ehret: "Actually, second in the class was possible at the end. But Martin had such strong problems with pickup on the tyres in his final stint, that he suspected a slow puncture and came in for an additional stop. The team had to send him back to the track without action, but at this stop, the team that was third before overtook us."
The Rinaldi Ferrari finished in 31st place overall, 2 laps behind the class winning Garage 59 Aston Martin of West/Harris/Goodwin and 48s behind Barwell Motorsport Lamborghini, the former winner of the two previous races. Overall winner in the 49 car field was the Bentley M-Sport team with the trio Jordan Pepper, Stephen Kane and Jules Gounon.
"With the exception of a broken shock absorber in free practice, the weekend actually went smoothly. My stints were quite ok, although I drove very carefully and conservatively because of the difficult grip conditions due to the masses of rubber chunks from tyre abrasion off the line. As you can see from our team mates in the #33 Ferrari, who were unfortunately kicked off the track by a Mercedes, there was reason enough to be careful in traffic. Jose and Martin also acted reliably and the team was able to use the numerous additional Full Course Yellows tactically to our advantage."
At the upcoming highlight of the season, the 24h of Spa on 27-28 July, the trio on board the #488 Ferrari will again be extended to a quartet. "There my team mate Rory Penttinen from last year will compete together with us. With his speed he is a valuable addition to our trio."