Datum: 05.08.2018 · Sonstige
Classpodium at the 24h of Spa 2018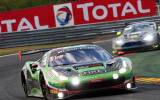 Sportscar driver Pierre Ehret finished the 2018 edition of the Spa 24 hours 2018 with a third place in the AM class. The german Ferrari-Pilot shared his F488 GT3 together with his Rinaldi-Racing team mates Rick Yoon (KOR), Murat Sultanov (RUS) and Nick Boulle (USA). The result marked a 3rd consecutive podium-finish for Ehret at the Belgian classic, which was held for the 70th time this year in its 94-year history. Already in 2016 (third) and 2017 (second) the Rinaldi team finished the podium. After 488 laps the Ferrari quartett came home 34th overall and third in the Amateur-class.
"This was a result we had not expected regarding the strength of our competitors. The car had again been wonderfully prepared by the Rinaldi team. Also in the race everything ran almost smoothly: we didn't get any penalties and the only incident we had - a spin into the gravel bed at Pif-Paf - just costed us 2 laps. In addition, we were lucky that some of our previous season opponents had problems and were unable to finish on their usual spots. Only in terms of strategy, the two teams placed in front of us were slightly better and made better use of the yellow phases. Therefore they were deservedly ahead."
The Rinaldi crew only had to admit defeat to the two Lamborghinis from Barwell Motorsport (Machitzki/Amstutz/Abra/Kujala) and the Italian Target Racing team (Costantini/Folco/Debs/Delhez), who finished 8 and 3 laps ahead of the Ferrari. 7 other competitors were left behind in the class. A total of 10 cars started in the AM category - the highest number in 3 years.
"Also our new team mates Nick and Murat showed a solid performance and brought the car home without any mistakes. Our sister car in the Pro-Am class also won it´s class, which rounded off the successful weekend and underlined on which high level the Rinaldi Racing team currently operates. Although we are now 26 points behind the Barwell team, which won at Spa, before the last race in Barcelona, and thus outside the title range. But second place in the championship is still possible against the McLaren squad from Garage 59, for whom we are only 12 points short. This will make up for a nice fight at the last race!"
The final race of the Blancpain Endurance Series will take place from 28-30 September at the Circuit de Catalunya in Barcelona.