Datum: 27.05.2018 · 24h Le Mans
Another Podium at Pierres 20th Blancpain race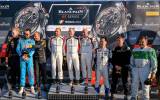 German sportscarpilot Pierre Ehret achieved his 13th Blancpain Endurance-class podium at the 3h of Monza, the season start of the Blancpain Endurance GT-Cup 2018. The Rinaldi Racing Ferrari-trio Pierre Ehret, Rory Penttinen and Rick Yoon took the chequered flag last weekend as 3rd in the AM-class and in 35th position overall. This meant valuable first points for the season 2018.
"In free practice and Qualifying we just had minor issues to deal with" Ehret told after the weekend. "In Qualifying - just had a Red flag preventing a fast run. At the start I unfortunately got stuck behind some Pro-Am-cars. As a result my tires were not on the performance levels of the previous session, presumably because of the pick-up I collected off-line. Despite this the stint was quite ok. At the handover to Rory we lost 8s due to a problem with the pit limiter. But my new teammate drove a superb stint and he came back in the pits leading our class. Unfortunately at the final pit stop another problem occurred with the fuel rig, costing us another 20s. Rick did also deliver a good job, but he could not hold the faster driver in the Barwell-Lamborghini for P2 in our class."
The Rinaldi Racing trio finished their race 23,7s behind the second car in the class, the Barwell Lamborghini of Amsutz/Machitski/Guedes, who followed the winning AKKA-ASP-Mercedes of Barthez/Debard/Giauque by around 10s. For Ehret the third rank in class was the 13th podium result in his 20th race in the Blancpain Endurance Series. In total 6 cars were starting in the AM-class in Monza.
"Both teammates made a really good job in the car. Also the Rinaldi crew did an excellent work on the car. Unfortunately I still carry since some years some "handicap-weight" with me, which pays tribute to my top speed and the ability of overtaking, especially here on the long straights, which is now more relevant since the new GT3-cars are more sensible to the aerodynamics and less to the engine-power like the old cars. Now the next track is Silverstone in 4 weeks. There we should be again in the mix for a class-podium."