Datum: 11.08.2017 · Sonstige
Podium-result at the 24h of Spa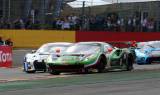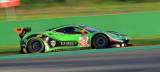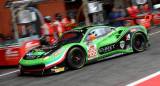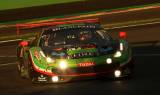 Pierre Ehret and his teammates Rino Mastronardi, Patrick Van Glabeke and Gabriele Lancieri finished last weekends 69.th 24h von Spa as 2nd in the GT3-Am-category. Their Rinaldi Racing Ferrari F488 crossed the finishline on sunday after 528 laps in the race. This result leaves regulars Pierre Ehret and Rino Mastronardi with at least a mathematical chance for the championship in the Am-class of the Blancpain GT Series Endurance Cup.
Ehret concluded the action: "We started as third in class and were second at the interims-results taken after 6 and 12 hours. After these we even took the lead in our class, despite getting a series of drive-throughs for drive-time or pit-stop-violations during the race. On sunday-morning Patrick Van Glabeke experienced a tire failure which caused an additional stop after he limped the car back to the pits. A little later I took over the car from Gabriele, but the team discoverd a resulting damage from this tire failure to be repaired and so I had to wait for 10minutes in the pits before resuming the race. We lost 4-5 laps on this occasion and so we slipped back to third in class. At the end of the race we put Rino in the car and with one of his usual great performances we were able to regain 2nd in class to the end."
Considering the 4 lap margin on the eventual class-winner - the Kessel Racing Ferrari #888 - the tire damage of the Rinaldi-crew and the resulting damage costed the team the class win in the GT3-Am-category. At least the third Walkenhorst Motorsport BMW-M6-GT3-crew could be kept on distance. In the points standings of the Blancpain GT-series Endurance Cup Ehret and Mastronardi now are listed as 2nd with 82 points each, 20 short of the leading Kessel-Racing trio Perel/Duyver/Zanutti and 16 more than the Walkenhorst-pilots Schiwietz/Walkenhorst. 26 points are still up to grab at the final heat in Barcelona on the 1st of october.
Ehret: "That is a bit like "groundhog day". We are already used to the situation going into the final race with sightly to less points for a realistic chance to grab the title. Here in the endurance series the key factor is to gain results at each race and now we are missing the points from the season-opener at Monza were we experienced an engine failure after overheating issues. But it´s too early to surrender. We already saw in the past the sitiation that a leading team lost its title in the very last race. We have now nothing to loose and Barcelona as an endurance race is a new stage for most of the teams."