Datum: 22.11.2017 · Sonstige
No finish at the COTA 24h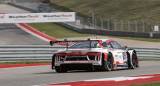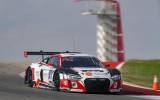 Pierre Ehret has missed a chequered flag at his final race of the year, the inaugural COTA 24H of the Creventic 24h-Series. The german sportscar racer started the race on the Formula 1 circuit in Texas aboard of a Car Collection Audi R8 LMS GT3 together with his german teammates Stefan Aust, Christian Bollrath, Peter Schmidt and Dimitri Parhofer. Technical problems terminated their run to the flag after 17 hours in the race.
Ehret concluded: "Austin is a really amazing track with very demanding fast corners. I was not satisfied after the qualifying, as it was difficult for the team to find a suitable setup for the first race on this very technical track while I was also busy in getting comfortable with the Audi. At the start of my racestint I managed to post some good times and improved up to 8th position. Then suddenly after 8 laps I had problems with the brakes which became unpredictable in bulding up pressure. That caused a spin and a near crash one lap later. I had to adopt my driving-style, losing 2-3s per lap. Additionally the fuel-pressure went down on my inlap and I became stationary for some time. I managed to reset the car and bring it back to the pits where the team push me into the box. There a broken drive-shaft was identified as root-cause of the problems. We lost 17 laps in repairing this problem."
Ehret did a second stint later in the race. "That was ok, but the times were on a different level as the traffic increased. Due to a previous collision of one of my teammates we later had to do further repairs at the steering columns which costed us additional 7 laps."
After 3 hours in the second part of the race (the race was divided in 2 parts of 14 and 10 hours) the race of the Audi crew found a premature end after a fuel-line broke and the engine caught fire. "At least our teammates on the second Audi could win the A6-Am-class and took the flag in 4th overall. At least a finish at the last race of the year would have been a more suitable end for the season. Maybe we can manage this next year on the second edition of the race."