Datum: 30.06.2017 · Sonstige
1000km Le Castellet - a podium without fame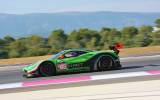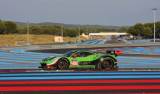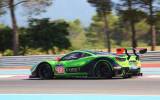 Pierre Ehret and his teammates Rino Mastronardi (I) and Rory Penttinen (FIN) finished the 3rd race of the Blancpain GT Series Endurance Cup, the 1000km of Le Castellet at the track in the south-east of France, on the podium of the AM-class. This result sounds better than the race developed for the german Rinaldi Racing Ferrari-Crew with its F488 (with the #488) as it conceals the fact that due to technical problems the crew remained behind their possibilities.
Ehret explained: "We started from pole and Rino did a good job in maintaining and extending our lead. I took over and prepared to defend our position. Then the attachment of the front-splitter broke and from that point on the handling of the car was disastrous! We had nearly no downforce and lost 2-3s per lap to the competition. Also my copilots Rino and Rory did not get used to the damaged car. When I took over the car for my second stint, I not only had to fight with the messy handling, but after a while I also noticed smoke in the cockpit. I immediately came back to the pits to fix this, where the team did not expect my stop due to a failed radio connection. Therefore the stop lasted about a minute longer than planned."
As it turned out, the splitter scraping on the tarmac forced the smoke into the cockpit. The Rinaldi team decided to repair the item, leading to a further delay of 3 minutes. Including the previous lost time, the head of the class, that was featuring just 4 cars in Le Castellet, was now out of reach. The win went to the swiss Ferrari-trio Duyver/Zanuttini/Perel in the Kessel Racing F488, after the previous leading Walkenhorst BMW was handed a 60s time-penalty. 4 laps behind the winners, Ehret, Mastronardi and Penttinen finished as 3rd with 4 laps distance on the class-winner.
Ehret: "In the end it was a podium finish but our enthusiasm about it was limited. At least we gained some important points. At the 24h of Spa, where we still have a seat to offer in our Ferrari, it will be important to stay in touch with the Kessel crew and to regain some of the points we lost here." Currently Ehret and Mastronardi have 46 points and are 6 points short of the swiss Ferrari-trio.