Datum: 28.09.2016 · Sonstige
Another Podium at the Blancpain Endurance Cup final race on homeground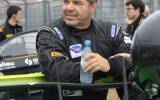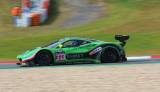 Ferrari-Pilot Pierre Ehret earned another podium-position at the final heat of the Blancpain GT Series Endurance Cup, the 3 hours at the Nürburgring, which were held last week at the german circuit. Despite initial difficulties with the setup of their Rinaldi Racing Ferrari F488 GT3, Pierre Ehret - who had still some mathematical chances on the AM-Title - and copilot Rinat Salikhov fought back through the field of their class. At the end the duo archived a fine 3rd place in class, so Ehret gained another podium at his home-race despite missing the class-title.
It was for the 2nd time in 3 years that native-german Ehret had a shot on the title in the AM-class at his home track on the Nürburgring. But again a difficult race was on his cards: "The qualifying was not very convincing. As a result of the early-morning-fog on race day only the last session could take place. It turned our that Rinat was on wrong tyres during the session. This explained our qualifying result (7.th in class) and we knew that our chances on a possible title faded further with this starting position."
"I started on slicks which quickly collected pick-up and were therefore difficult to handle. Rinat stayed on his inters used during qualifying for the second stint. Then again, I took over for the last stint. The AKKA-ASP-Mercedes (the eventual class-winner of the race) was out of reach for us as we were up to a second slower then them. Even the Ferrari F458 were faster than our F488 in average."
"Looking back on the season not only our accident in Le Castellet but also the poor results in the first two parts of the 24h of Spa had denied us crucial points missing for a realistic shot on the title. These results really hurt our chances and with them the starting position before this final would have been a different one."