Datum: 22.05.2015 · 24h Le Mans
Accident ends 24hours at the Nürburgring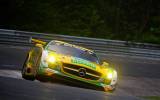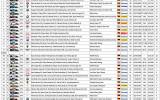 Pierre Ehret has been denied an successful finish at this years 24 hours of the Nürburgring. The Mercedes SLS AMG GT3 of Ehret and his teammates Alexander Mattschull, Peter Schmidt and Vic Rice fell victim to a collision in the 7th hour of the race with the eventual race-leader on the legendary Nürburgring Nordschleife under gruelling conditions. This ended a race that was just going to find a good rythm for the Mercedes-Crew of the Car Collection-Team.
Just before the 43. edition of the 24h-race the Car Collection crew managed to fix a new sponsor - Mann Filtersystems - who put a very attractive yellow and green livery on the Mercedes. Unfortunately an oil leakage in the first session was hampering the performance of Ehrets first appearance on an Benz at the 24-hour classic." The engine was running short on oil for a certain period, what also prompted the team to install a new engine on the advice of AMG in the night to Saturday for the race. We completed the qualifying, with the embattled motor, predominantly in the rain to provide all pilots with the necessary compulsory laps. Only at the end we managed to do 2 laps on slicks, which was not enough to get the tire on temperature, and to create a time for admission to the top 30 qualifying."
The Car Collection-squad started the race from 38th position in the 151 cars big grid. "All stints went fine, except a small understeer which was ok. But in the 7th hour, just after darkness the rain got worse on the Nordschleife. Alexander was at the wheel of the car when he ran up to slow touring car just after the Karussell on the way up to Hohe Acht and had to break. Then suddenly he got a big hit in the back and crashed in the barriers. It turned out that the race leading Porsche of the Frikadelli Team with Patrick Pilet ant the wheel hit him from behind. There was nothing he could do to avoid the crash as we could see when we checked the inboard of the Porsche later on sunday.
Alexander was ok after the crash but unfortunately Pilet had to stay overnight in the hospital for precautionary checks. Our Mercedes was a casualty after the crash - the team needs a new tub now. It´s a pity, because so we did not have a chance to see what would have been possible, especially after the car was equipped with new Dunlops after the qualifying. But things like this can happen when the conditions on the Nordschleife become gruelling and the green hell opens it´s gates ...."