Datum: 22.05.2014 · Sonstige
VLN4: solid preperation for the Nürburgring 24h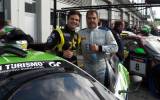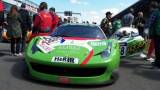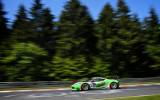 Pierre Ehret has successfully completed the dress rehearsal for the 24-hour race on the Nürburgring. Together with his teammates Alexander Mattschull, Mike Jäger and Andrea Barlesi Ehret archieved a 17th overall position at the 4th VLN-Endurance race , the 45th Adenauer ADAC Simfy-Trophy. For the only Ferrari-crew in the 28 cars containing GT3-class the preperation for the 24h race on the 21-22.June was the main topic at this weekend.

"Record-laptimes were not on our agenda. On each lap I had double yellow flags, which meant Code 60 zones. After a long brake it was more important for me to get used to the Nordschleife again. The traffic with more than 200 cars and the twisty track with more than 80 corners have very special requirements for the pilots. At the Döttinger Höhe for example, the more than 2km long straight before start & finish, you have to take extreme care in not colliding with a slower car when leaving the slipstream of a car you want to overtake. It was such an incident which brought out the red flag which ended todays race 1 hour before the finish. If you imagine the traffic and the massive grid of todays 208 starters you sometimes wonder why not more accidents happen."

Pierre Ehrets team "GT-Corse by Rinaldi Racing" is fielding the only Ferrari F458 Italia GT3 at this years 42nd 24h of the Nürburgring event, which is held on the 21-22.June, one week after the Le Mans 24h. Alexander Mattschull drove the first stint before handing over to Pierre Ehret. Mike Jäger was driving the 3rd stint in the green machine with the startnumber 458 while Andrea Barlesis final stint was cancelled due to the red flag. In the qualifying the team archieved a 23rd place on the 208 cars big grid.

"Especially the 24h are a race where you have to take care to bring the car home safe and unharmed. Exact this is the plan for our first 24h race with the F458 GT3 on the Nürburgring. If you stay out of trouble a finish in the Top-10 might be a possible result and this would be a great archievement for us. It will be hard enough to bring the car to the chequered flag. For this all pilots have to keep focussed, concentratad and disciplined for all of the 24 hours." concluded Ehret.


The Ferrari of GT-Corse by Rinaldi Racing will start in the SP9/GT3 class of the 24h at the Nürburgring. 32 cars have been announced on the provisional entry list for this class. 175 Teams have been listed on the entry of the 42.edition of the 24h race on the more than 24km long track.