Datum: 14.01.2014 · Sonstige
Top-result at the Dubai 24h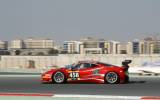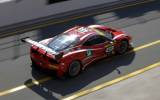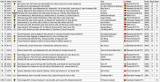 Pierre Ehret and his 4 teammates Pierre Kaffer, Marco Seefried, Alexander Mattschull and Vadim Kogay archieved a top-result at the first 2014 outing of their GT-Corse Ferrari F458 GT3. They crossed the finish-line of the 9th edition of the 24hours of Dubai as 4th overall. 77 cars started the first major 24h race of the year. The team of german crewchief Danny Pfeil just missed the final podium step, but ended up as best of 7 Ferrari-Teams, beating high profile squads like ELMS-Champions RAM-Racing and WEC-Champions AF Corse. The overall suprise-winner was the swiss equipe of Stadler Motorsport with their Porsche GT3 and the driver-quintett Engelhard/Ineichen/Amstutz/Ineichen/Matter. 2nd overall went to the former FIA-GT-Champions of All-Inkl-Motorsport while the final spot on the podium was claimed by the german Black Falcon team.

Ehret, who crossed the line 3 laps behind the 3rd placed Mercedes, was more than satisfied with the result: "All our 3 Am-drivers showed a competitive performance and made no severe mistakes. So Pierre (Kaffer) and Marco (Seefried) were able to show a solid as ever performance and promote the car really good to the front of the field in the night. I can´t tell that we did somehow loose the podium, as the 3 cars in front of us were really faster. Instead we gained the 4th place. We had only slight contacts during the race, no severe repairs and nearly no penaltys, apart for one resulting from qualifying which costed us 5 start-positions. The car was really well prepared, so hats off to Danny and his new crew!"

Pierre Ehret & his GT-Corse-squad leave Dubai with a good swing: "This event did really develop well. We will for sure return in 2015. The team was also satisfied with that good entry into the season. This was not to be expected, especially as this was their 1st outing at this challenging event and after the reorganisation of the team in late 2013. Now we have 9-10 more endurance races with the F458 GT3 on our schedule. We now know what we can archieve and what or level of competition is. 2014 will be a promising and competetive season!"