Datum: 18.06.2014 · 24h Le Mans
Successful Finish at the 24h of Le Mans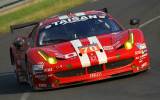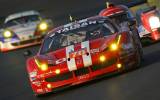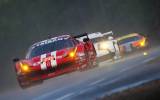 Sportscarpilot Pierre Ehret, his teammates Shinji Nakano and Martin Rich and the japanese Team Taisan have successfully concluded their appearance at the 82nd 24h of Le Mans with a finish. Together with his teammates, Pierre Ehrets crew took the flag at his 8th participation at the famous endurance race for the japanese crew, which returned for the first time since 8 years to the frensh classic, on their first outing with a Ferrari at Le Mans. The crew, that was supported by the german Farnbacher Racing Team of father and son Horst and Dominik Farnbacher, finished 8th in the 17 car strong GTE-Am-class, as 26th overall.

"The result was satisfiying for us, considering that we had the oldest Ferrari-chassis on the grid. The car was a 2012 chassis without the actual aero- and engine-updates, which resulted in a top-speed-deficit of up to 12kph on the straights and laptimes which were virtually 2-3s slower than the other 8 Ferraris in our class." Ehret explained after the race. "This made overtaking a hard job during the race. Shinji, Martin and me had to adopt on its characteristics during the practice and qualifying-sessions. We all three succeeded and developed a good average speed with laptimes between 4:03-4:05. Our team did an excellent job in preparing the car, so that it ran faultless during the race without any technical problems. This and our continous speed and disciplin made it possible for us to finally climb up the order, as our opponents were hitting troubles and we were even able to fight with some cars in our class.

The red Ferrari, which earned its nomination for the 24h of Le Mans by last years participation in the Asian Le Mans Series, finishesd as 8th in class and as 4th of 9 started Ferraris in the class. The class-win was taken by the danish Aston-Martin-Crew of the works-supported Vantage GTE from Nikki Thiim, David-Heinemeier-Hansson and Kristian Poulsen. 13 out of 17 started cars in the class took the flag at the race that was won for the 13th time by the Audi R18 works-car of Marcel Fässler, Andre Lotterer and Benoit Treluyer, who took their 3rd overall victory each.

"Concluding, it was again a very hard race. And with disciplin and just minor incidents like some rare spins we archieved the maximum that was possible with our material. But this all made up for an ideal preperation for the 2nd 24h race that I will contest on next weekend at the 24h of the Nürburgring." There Pierre Ehret will contest whith his own car, an Ferrari F458 GT3 Italia. The car will be the first Ferrari GT3 contesting in the overall winners-class of SP9/GT3 and will be maintained by the german "GT-Corse by Rinaldi-Racing" crew.