Datum: 26.09.2014 · 24h Le Mans
BES-Season ends with 2nd in class at the Nürburgring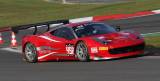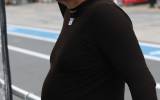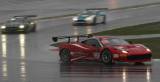 Pierre Ehret and his teammates Frank Schmickler and Alexander Mattschull fought back to finish at 2nd place in the GTR-category at the final race of the Blancpain Endurance Series 2014 at the Nürburgring, the iRacing 1000-race on sunday. After 6 hours in difficult wet conditions their GT Corse by Rinaldi Racing F458 finished a successful debut season in style. Ehret and his teammates finished after 152 laps on the Nürburgring as 2nd in class and 21st overall with 1 lap distance to the eventual winners in their class, the Team Parker Racing Audi R8 LMS with the british duo Ian Loggie and Julian Westwood.

Ehret and his copilots were anything but disappointed with the result although they missed the teamtitle in GTR against the AF-Corse Crew#51 by just one point. "In the dry practice sessions and in qualifying we confirmed our good season performance with posting the best times again. The wet conditions on raceday gave us a struggling start into the race. Frank had to make himself familliar with the brake performance in the startstint but he managed to find a good rythm until he handed the car to me. My 1st stint was very difficult due to changing whether conditions. From torrential rain to drying lines and rain again there was everything. I had at least 3 spins but managed not to damage the car. Alexander was faultless as ever and so we could settle into the race and fight back for lost positions. My 2nd stint was much better as the rain faded away and also our opponents had to pay their tribute to the conditions. I managed to hand over the car to Frank on 2nd position. But the Audi at the front was too much away so we could not gain the missing points for winning the team-classification."

"Our 1st full season in the gentleman-trophy of the Blancpain Endurance series met well our expectations, although the early accident at Spa really hurt our championship-ambitions. The Blancpain Endurance Series is an attractive series of events and the GTR-class is tailor-made for abitioned privateers like us. The squad of GT Corse by Rinaldi Racing made a flawless good job in it´s first season on this international level. With Frank Schmickler and Alexander Matschull I had 2 very capable teammates who are keen on fighting again for the GTR-title in 2015."

Ehrets Ferrari missed its distinctive green livery at the Nürburgring for a good reason. After the heavy crash at Spa the original chassis of the #458 was still being restored, which led to the decision to rent a AF-Corse chassis for the final round. "But in a few weeks the green #458 will be seen racing again" confirmed Ehret.