Datum: 02.07.2014 · 24h Le Mans
Another Blancpain Endurance class-win in Le Castellet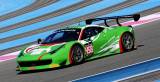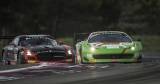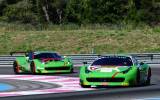 Pierre Ehret and his "GT-Corse by Rinaldi Racing" team mates Alexander Mattschull and Frank Schmickler archived a third consecutive class-win in the Gentleman Trophy of the Blancpain Endurance Series. At the 3rd race, the 3 hours of Le Castellet, the german trio secured their win after 3 hours and 86 completed laps in their green Ferrari F458 GT3 - labeled with the startnumber #458 - with a fine 20th overall as classwinners against 10 other Gentleman Trophy squads. For Ehret, who was forced to miss the 2nd heat in Silverstone 1 month ago it was the 2nd class win of the season. Now his teammates are leading the scoretables and face the chance to secure the title on the next penultimate round, the 24h of Spa, for the german team.

"In Le Castellet we were again able to take full advantage of our strength - the homogenity of our driver crew." stated Ehret after the race. "While most of our opponents have one ore more weaker links in their crew, me Alexander and Frank match quite well in our level of laptimes. This pays off over the distance of an endurance race, even if things are not playing in our hands. Le Castellet was a classic example of this: Me an Frank were both struggling with our tire-sets. So we backed off tactically instead of overpushing and let Alexander do the fast times. He had more luck with his set and was able to archieve more than 1 lap advantage, which Frank in his final stint just had to conserve a bit."

"Also our team provided us again with a car prepared to the best standard, which ran for the 3rd time in a row like clockwork. Our squad from "GT-Corse by Rinaldi Racing" around teammanager Danny Pfeil and crewchief Michele Rinaldi is doing a superb job! We are now really keen on the 24h of Spa, where we want to aim for the 4th win in a row and maybe for the title for our team and for Alexander and Frank".