Datum: 01.10.2013 · Sonstige
Top5-result at Ehrets last VLN-race 2013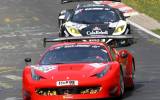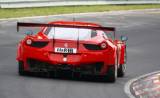 Pierre Ehrets GT-Corse Ferrari F458 GT3 is further speeding up. At the recent VLN-endurance race – the 45th ADAC Barbarossapreis on saturday the 28th September – Ehret and his teammate Alexander Mattschull finished as 5th overall in the 164 car grid. The success came just 1 week after the Blancpain 1000km-podium for the team in the gentlemen-class.

In qualifying the gentleman-pairing of Mattschull/Ehret revealed the potential of the car with a 8:16,520 which resulted in a 10th place on the starting-grid. In the race the pairing clocked their laps constantly, staying out of all troubles and benefited from bad luck of their opponents. With a 5th overall Ehret archieved also his best overall-result in a race on the Nürburgring-Nordschleife.

"The race went extraordinary well for us. We both doublestinted the car to get a better rythm into the race. My stint was 15 laps with a best of 8:25 and without any incidents. The laptime was archieved despite heavy traffic and frequent double-yellows on the track. Our GT-Corse team did again a fantastic job. Danny Pfeils crew is full of passion for the car and working very dedicated for the success as the drivers. Again a big thanks to the whole team."

Ehrets VLN-season now comes to a planned end, after the update to an GT3-car has been realized. For the next season the team plans to come back on the Nordschleife as also to participate in several endurance events as the Blancpain Endurance series and several stand-alone events. Detailed plans of the GT-Corse-squad for 2014 will be issued in the coming weeks.