Datum: 25.09.2013 · Sonstige
Podium in 1st Blancpain Endurance race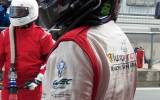 Pierre Ehret and his teammates Alexander Mattschull and Christian Kohlhaas archieved a finish as 22th overall and 3rd in the GTR-class on their debut in the Blancpain Endurance Series. The trio finished with their GT-Corse Ferrari after 6 hours and 171 laps at the Blancpain 1000km-Race at the Nürburgring to gain the last step on the podium. The success for the first german squad racing in the Gentleman-class of the series came after an heroic over-night effort of the mechanics, who had to deal with an severe accident damage after free practice on saturday.

"Unfortunately we had to miss all the qualifying sessions after the accident in the first corner on saturday" explaind Ehret. "The supportframe for the engine broke and so we had to organize a replacement, that arrived late on saturday. Our crew did a marvelous job in reconstructing the car during the night. We started effectively without any further test into the race and the car was competitive like a brand new one".

Starting from last position of the 50 car-size grid Alexander Mattschull overtook in his first stint 11 of the 12 opponents in his class, before handing over to Pierre Ehret. The owner of the car fell back to 5th in class after the stop but improved further on to inherit the class-lead at the end of his stint. Ehret handed over to Kohlhaas, who held the car in contention for a top-spot in class, despite driving a GT3 for the first time. In his 2nd stint Ehret just regained P3 when short before his pitstop a problem with the pit-limiter and a blown tire costed him 3 positions. But Mattschull was able to regain the lost positions in his last stint, finishing 3rd-on the classpodium in also his first BES-race.

Ehret: The puncture came at the most suitable time - right before my stop. It may have costed us the 2nd spot in class, but to finish on the podium after such a mishap in free practice is a huge team-succes. Hats off to our mechanics! I must admit I liked very much to race here in the BES. The racing here is very competitive with close fights even between the gentleman-pilots. I can imagine having more Blancpain races on our schedule in 2014."

Pierre Ehrets next race on the GT-Corse F458 is just days away - next weekend he will contest the 45.th ADAC Barbarossapreis at the VLN on the gruelling Nürburgring Nordschleife.