Datum: 20.03.2013 · 24h Le Mans
Return to Porsche for Ehret in Sebring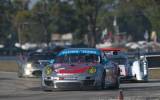 Pierre Ehret and his teammates Alexandre Imperatori (CH) and Brett Sandberg (USA) finished the recent 12h of Sebring as 9th on the Flying Lizzard Porsche in the GTC-class. Although keeping in touch with the top of the class at the beginning of the race, difficulties hampered the performance of the crew during the 12hour race as Pierre explained:

"The race was relatively ok for us. It just was demanding in the Cup Car, because this is a real race-car, asking for a special riding style because of the rear-engine of the Porsche. I knew that before but this is not easy to reactivate If you did not do that for several years like me. On several occasions during the race our car was 2nd in class, especially in Alexandres stints. But during the race we hit a bunch of problems. We experienced several spins, Alexandre had a collision with a Viper, causing a radiator puncture. I lost the brakes somewhere during my stint what resulted in poor laptimes then. And at the end the gear selection unit called it a day. Our mechanics never got bored as we were a frequent visitor in the pits and behind the wall, resulting in 9th position at the end. This was at least very different on our teams 2nd car that ran flawless and was classified as 2nd in class on the podium."

"Positively I have to say Flying Lizzard is very superb team. You can almost feel their experience in the way they approach race preperation and you can always be confident that they make the best out of your car bringing it to speed. But the Cup Porsches were also new to them in Sebring and I think there is still a small advantage of experience that the other teams have, that use the car for years. But I´m convinced that Lizzard will catch up that difference in the shortest time possible and be a contender for class-wins for the rest of the season."

Pierres next ALMS-leg will be his "homerace" in Laguna Seca for the partial californian resident. The 4h race gets on his agenda on May 11th. Previously, Ehret wants to participate in the VLN Endurance Championship on the Nürburgring-Nordschleife, in preperation of the 24h-race later this year.