Datum: 22.06.2012 · 24h Le Mans
Le Mans: DNF in the 12th hour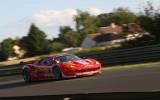 The legendary circuit of Le Mans showed ist gruelty to Pierre Ehrets Luxury Racing Team this year. The Ferrari F458 Italia of the german privateer fell victim to an sudden accident in the 12th hour of the race after 146laps. Ehrets teammate Frankie Montecalvo was on the wheel and on P4 in class when the Ferrari of the 21 year old youngster suddenly turned into the barriers while breaking for the 1st chicane on the Hunaundiers Straight. Although the young American managed to complete the 9km long way back to the pits, the team was forced to retire the car due to extensive chassis-damage.

Ehret was as dissapointed as the rest of his crew: "In my last stint the car behaved very strange. Compared to my first turn on Saturday afternoon the car felt totally different: very loose and unstable. Despite pushing hard our times rised up to 4:11, while our fastest times in the qualifying and practice were more than 8s faster. We guess something was going on with the suspension but on my stop before handing over to Frankie the team discovered after a short check nothing that could be related to the bad handling"

Montecalvo, the current ALMS-LMPC-Vicechampion, remained unhurt in the shunt. But the cars chassis was so badly damaged that the team had to retire it immediately after a short check.

This was the 2nd consecutive retirement of Ehret in the famous 24h-race. Last year also the race ended due to a no fault accident, when Ehrets teammate Shaun Lynn crashed the Ferrari F430 GTC of the CRS-Team in the Ford-chicane. Ehrets statistics now include 7 Le Mans starts with 5 finishes, 3 class-podests (2007-09: 2x 3rd, 1x 2nd) and now 2 retirements.