Datum: 15.06.2012 · 24h Le Mans
Ehret starts Le Mans with best Ferrari in class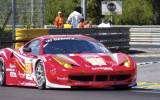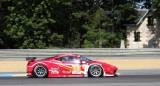 Pierre Ehret and his american teamcolleagues Gunnar Jeanette and Frankie Montecalvo have successfully completed the qualifying of the 80.th edition of the 24 hours of Le Mans. The three Luxury racing Ferrari-pilots will start from 4th in class (44th overall). They ended the 3 qualifying sessions as the fastest of the 7 Ferraris in the 13 cars containing GTE-Am-class for privateer pilots.

Obviously Ehret was in good mood after the sessions: "We used the speed of the car in an optimal way. Certainly the experience of Gunnar and me with the track was a big help. Luxury prepared the F458 also very well. But we are aware that a good starting position here is of limited use. 24 hours are long and we will have to take care of making a perfect job and not be collected by a competitor. Also the cars technic must last, but we are in the best hands of our teams mechanics who did a good job so far. The basic speed is there and everything is prepared for a good race."

The pole in the clas was archieved by the american Flying Lizzard Team (3:57,954) who managed to get ahead of the belgium Prospeed Competition Porsche-Crew (3:58,035) with their 2010 build Porsche RSR. Third in class was the danish piloted Aston Martin Vantage GTE (3:58,725), which beated the Luxury racing Ferrari trio by just 0,075s (3:58,800). Ehret and his Co-pilots were the best of the 7 Ferraris in the field, supplied by the teams of JWM Motorsport, AF Corse, Krohn Racing and JMB-Racing. Luxury Racings successful qualifying was completed by the 2nd car driven by the trio of Dominik Farnbacher, Frederic Makowiecki and Jamie Melo, who archieved the pole in the GTE-Pro class against strong competition from Corvette, Porsche Aston and the other Ferrari-crews.

The 80th 24h of Le Mans start tomorrow at 16.00 MEZ. It is Pierre 6th race at the classic, where he archieved 5 finishes and 3 podiums so far.