Datum: 28.09.2011 · 24h Le Mans
#62 CRS-crew archieves a podium at Silverstone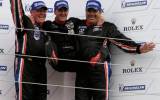 German Sportscarpilot Pierre Ehret and his Co-Pilots Roger Willis and Tim Mullen collected the best result of the season for the Ferrari F430 of their CRS-team at the 6 hours of Silverstone. The #62 crossed the line at the british 6h-race after 162 laps as 3rd in the GTE-Am-class and 2nd in the ILMC-classification of the category. In the end they finished as 35th in the 48 car strong field.

"This was a good race! The only real problem was the pickup from the crowded track which deteriorated the grip of our tires very soon. We had to make at least one extra stop due to this. Apart from this the traffic with 47 opponents was a big challenge. The fast prototypes are passing you that thight that it sometimes becomes frightening. The rearview in the mirrors is a specific problem in our Ferrari F430. They are relatively small and the additional camera in the back does not really help you."

"Our new addition in the lineup – Tim Mullen – did an extraordinary job today. It is more and more obvious that you need a good professional driver in the lineup to make a call for the podium in this class. This GTE-cars are that reliable today that you cannot hope for technical retirements of your competitors anymore. When starting the season we thought that 3 Am drivers would have podiumchances. This is obviously not the case."

The finish resulted in 13 additional ILMC points for CRS. This was enough to tighten the distance to the 2nd team in the classification - the Proton Felbermayr Porsche - down to 6 points. This improves the initial position of Pierre CRS-Crew for the last two ILMC-races in Road Atlanta and Zuhai significiantly. Although the ILMC-title is yet decided as Larbre Competition has now an advantage of 28 points and can not loose the ILMC GTE-Am title 2011 anymore.